Exciting Spring Updates from FireSmart BC
This time of year is always a busy one for FireSmart, the snow has mostly melted across BC and people are getting back out in their yards and neighbourhoods. It's a critical time for us to communicate our message of wildfire preparedness and mitigation, before wildfire season comes. With that in mind, we've launched a full spring awareness campaign, have officially welcomed a new team member on board and are gearing up for our first FireSmart BC Symposium.

FireSmart BC Kicks Off Awareness Campaign

Now is the time to safeguard your home or business ahead of this year's wildfire season, and practical advice is readily available to help you do it yourself.

These are the messages that FireSmart BC wants to spread as the province heads into Spring and Summer. Our advertising campaign will use both new and traditional media to hammer messages home under a simple but sobering observation: "The homes that are prepared are the homes left standing".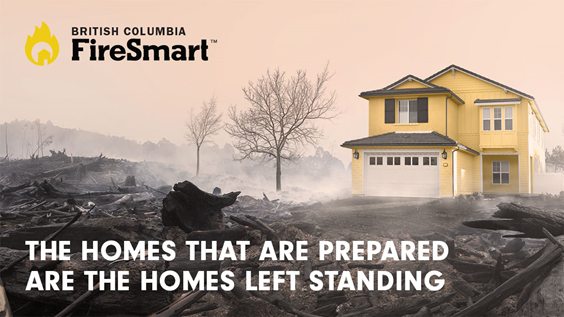 More than a slogan, the line is a statement of fact that applies in the aftermath of virtually all wildfires, whether they take place in BC itself, in the nearby US state of Oregon, or in the far-away bushland of Australia. For firefighters, prevention experts, risk-management analysts, and others familiar with the effects of wildfire, the same statement is basically a rule of thumb.
Meet Ember!
Ember, the FireSmart Fox is now officially a member of the FireSmart team and is working hard to educate BC residents young and old about how to keep their homes and neighbourhoods prepared for wildfire.